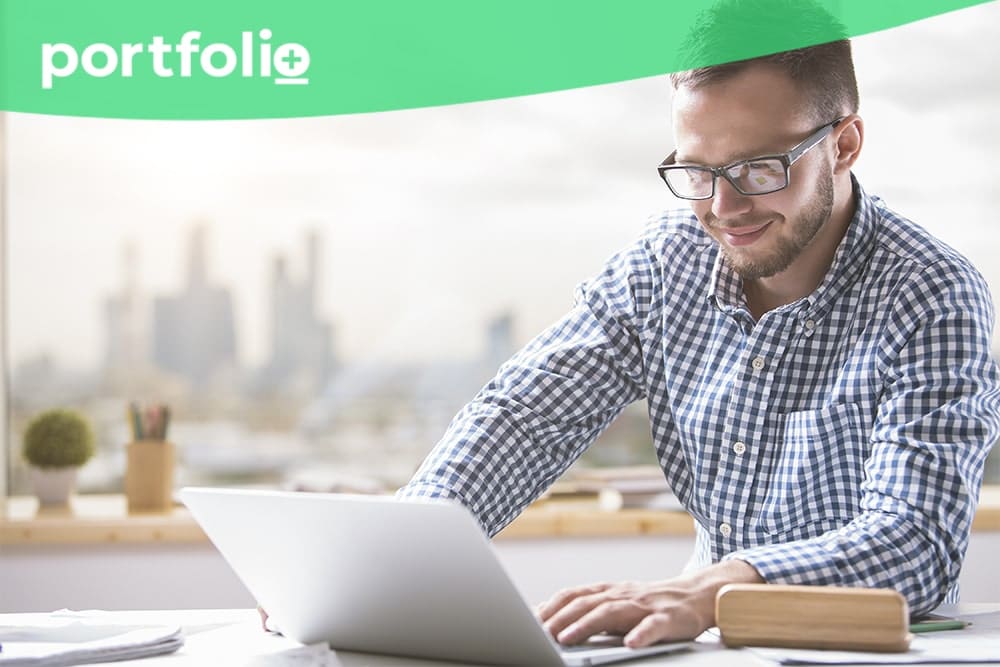 Ask any small business owner how they got their business off the ground. Maybe they'll tell you how they bootstrapped their initial business idea with a handful of personal credit cards. Or maybe they were luckier than that. Maybe they had an initial upfront investment, a kind of nest egg from a close family member, some rich Uncle Norman who collects cars and invests in startups and owns a winery that he calls his side project. OK, maybe that's a stretch. But it's true. Many entrepreneurs get help from someone willing to invest in them with the understanding that they may not get that investment back. Every small business owner has a story of how they got started, how they uncovered creative ways to get the money they needed to launch their idea into a business.
It shouldn't come as a shock that the first step for many aspiring business owners is personal financing from a traditional bank. In fact, nearly 84 percent of small-to-medium sized businesses use personal financing from financial institutions to finance the start-up of their business. But when personal financing isn't an option and a small business loan is denied by a big bank, your next option might be Alternative Lending.
There Are Many Types of Alternative Lenders
Let's start with the big banks. Big banks understand the inherent risks of small business loans, and they account for those risks with strict eligibility requirements. Sometimes, they'll even require information about a business's annual revenue during the application process. And you don't have to be an entrepreneur or aspiring small business owner to understand the problem with that. It's not just hard to show annual revenue when your business is only a few weeks old—it's literally impossible.
As a result, many entrepreneurs are forced to look elsewhere for that first round of funding. This is where the first group of alternative lenders come in.
Alternative Lending Model and Ecosystem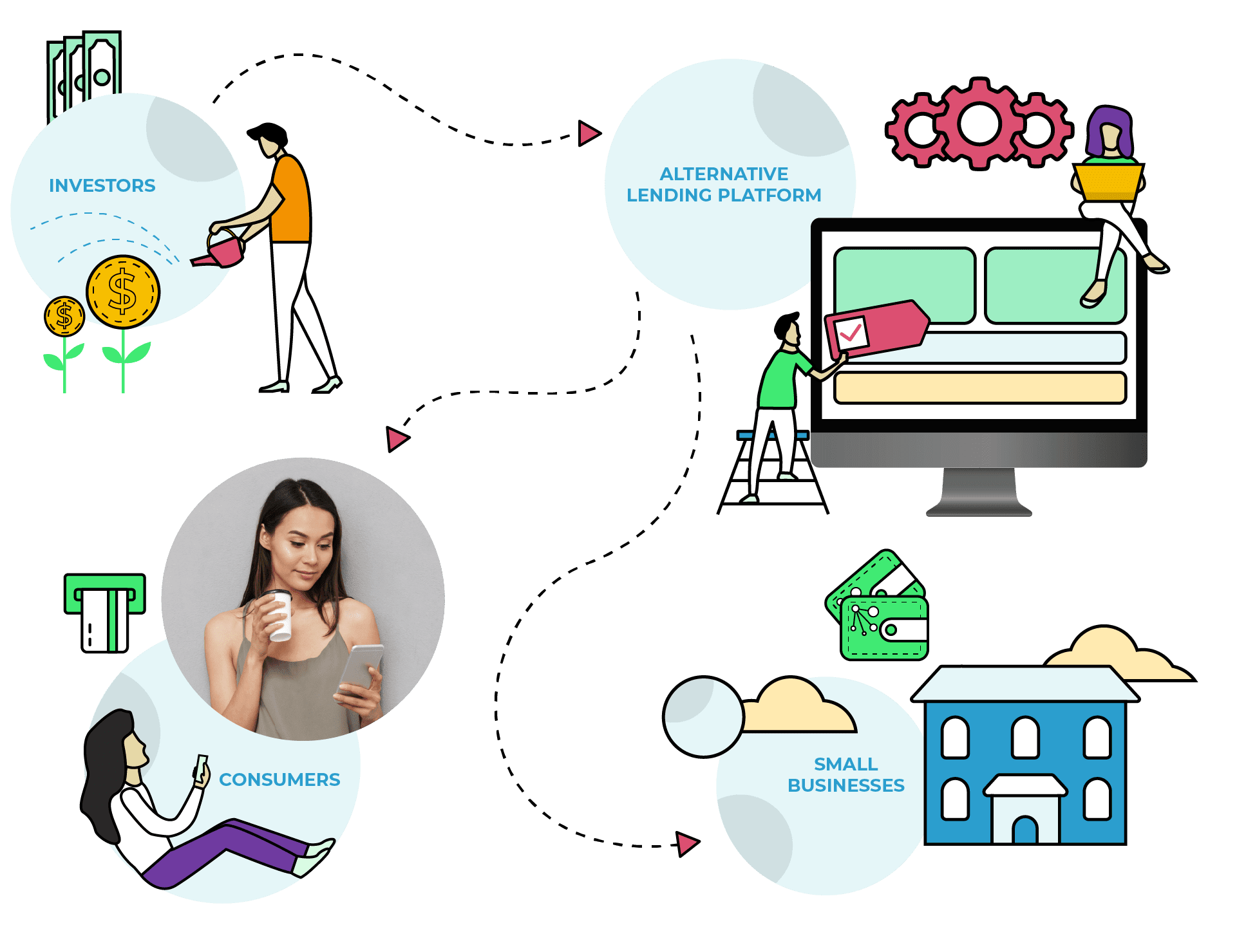 Many Alternative Lenders Focus on Small Business Loans
These alternative lenders understand that they're not the first stop for a business loan. And they see that as an opportunity. Knowing they're the second option (or even third or fourth option) means there's usually an increased risk of funding a loan, which most alternative lenders see as an opportunity to charge more interest.
Some of these emerging alternative lenders are balancing that increased risk in unique ways, like with an online lending model that eliminates the overhead of operating physical branches. These lenders primarily offer short-term loans or medium-term loans with higher interest rates through an application process that's fast and underwritten almost entirely online.
Some Alternative Lenders Focus on:
Invoice Financing
Equipment Financing
Merchant Cash Financing
Many of the alternative lenders offering small business loans also provide other lending products, including invoice financing, equipment financing, and merchant cash financing. These niche products are often just seen as creative ways of marketing small business loans.
Invoice financing is designed to allow companies to improve their cash flow, allowing business owners to use their invoices to borrow the amount of money that's outstanding from their customers. Equipment financing is another solution designed to cover the cost of a new or used equipment. And merchant cash financing is a creative financing option that lets small businesses use their future sales for upfront working capital, providing small business owners with an upfront advance in exchange for a percentage of future debit card and credit card sales and a weekly payment schedule.
And Other Alternative Lenders Are Focused on:
Creative Personal Loans
Sub-Prime Mortgages
Car Loans
Although many alternative lending solutions are designed to provide creative financing solutions for small businesses, there's another group of alternative lenders that are focused on personal financing options. These lenders are focused on short-term loans with very high interest rates and include creative financing solutions often geared toward individuals with a not-so-great credit history. The upside is that they also provide many individuals with an opportunity to rebuild their credit. These alternative lenders offer solutions like subprime mortgages, rent-to-own financing, and car title loans. Even traditional pawnshops are considered alternative lenders.
These Guys Are Alternative Lenders, Too!
Crowdfunding
Peer-to-Peer Lending
Marketplace Lending
What about crowdfunding platforms like Kickstarter, Indiegogo, and GoFundMe? Are they alternative lenders? Absolutely! In fact, crowdfunding has become an important alternative lending source for well-established brands, small businesses, startups, and creative artists that are looking to fund their next project. In 2017, the platforms raised $17.2 billion (USD) in North America alone. Because of their size and reach, they're arguably some of the biggest players in alternative lending.
Other alternative lenders that focus on a community-funded lending approach are marketplace and peer-to-peer lenders. These lenders use online services to match investors (or lenders) with borrowers and have only been around since 2005. These platforms typically generate interest rates based on an applicant's profile, and the transfer of money and monthly payments are all managed through the online platform.
Alternative Lending Covers a Range of Lending Options Outside of the Traditional Lending Model
Although it's becoming a term that's primarily focused on small business lending models, alternative lending is continuing to evolve, defining a segment of the Canadian lending market that exists outside of the traditional lending. Alternative lenders are taking advantages of online business models, focusing on user experience and technology in order to provide tailored customer experiences and options for more people.
With FinTechs and neobanks on the rise, and with the prospect of open banking in Canada, we're bound to see more alternative lenders enter the market, launching online solutions that will undoubtedly challenge traditional lenders with easier access to funds, faster application processes, more personalized lending options, and even more competitive interest rates.
Sources:
https://www150.statcan.gc.ca/n1/daily-quotidien/181116/dq181116c-eng.htm
https://www.fundera.com/business-loans/guides/alternative-lending
https://www.nerdwallet.com/blog/small-business/merchant-cash-advance-small-business/
https://www.fundera.com/resources/crowdfunding-statistics
https://www.investopedia.com/terms/p/peer-to-peer-lending.asp
https://www.fundera.com/blog/traditional-bank-vs-alternative-lender
https://www.fundera.com/business-loans/guides/alternative-business-funding
Comments are closed.